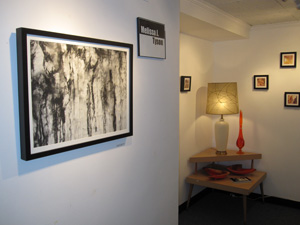 The Purple Moon is West Virginia's only mid-20th Century design studio and one of the state's cutting-edge art galleries. While originally focusing only on vintage home furnishings, accessories and art, The Purple Moon has grown to be a major venue for some of the regions best contemporary artists.
With a ground floor showroom and the "Over the Moon Gallery" on our mezzanine level, The Purple Moon blends the best of new art with the vintage – always with an eye to the modern. Owned and operated by Chuck and Connie Hamsher, serious collectors themselves, The Purple Moon has received local and national accolades for their attention to detail in selecting top quality vintage merchandise and art and for displaying these items in a way that is nothing short of glamorous.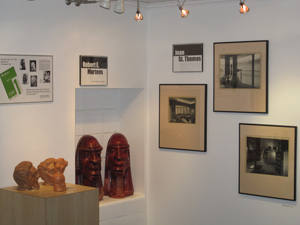 The Purple Moon regularly rotates art shows, usually with at least one new art exhibit a month, and represents a growing number of artists from both in and out of West Virginia. As participants in the Downtown Charleston ArtWalk, The Purple Moon has become a vital part of the Capitol City's art scene over the past 5 years.
This website is dedicated to art at The Purple Moon. Vintage mid-20th Century items from home furnishings to glass and dinnerware are showcased on our main website http://www.thepurplemoon.com.
The Purple Moon is located at 609 Quarrier Street, in Charleston, West Virginia and is open from 11am to 5pm Tuesday through Friday and from 10am to 4pm on Saturdays and at other times by appointment.