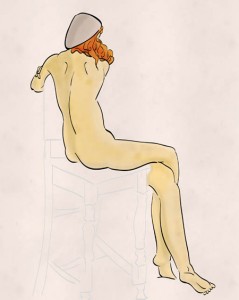 New works by Charleston artist Chase Henderson will be opening at The Purple Moon fon Thursday, June 23rd as part of the June ArtWalk.
Chase Henderson grew up on a mountain near Charleston, WV. Lacking human contact he was forced to create his own world and talk about himself in the third person for entertainment. He went to Marshall University to study computers and writing, but mostly computers. Burdened with this knowledge he moved back to Charleston where he lives with his wife and peddles his dark arts of system administration. Sometimes when the moon is full you can hear him howling at his laptop battery in local cafes.
While seeking validation as a writer of fiction, the industry responded, "your work needs more vampires, but we will buy your pictures of naked ladies." This might actually be a step up. So the whole art thing was just a
lovely misunderstanding. His work has been described as figurative illustrations in a very striking minimalist style. Usually these pieces star the female form in gestures that strike an emotional chord with the view.
Chase just shakes his head when he hears this.
After chasing all the monsters out of the NYC subway, Chase was named director of the Charleston branch of Dr. Sketchy's Anti-Art School. He offers burlesque themed figure drawing sessions on the third Sunday of each month on the East End.
The Purple Moon is located at 906 Quarrier Street in Downtown Charleston and is open Tuesday through Friday from 11am to 5pm, Saturdays 10am to 4pm and also by appointment.