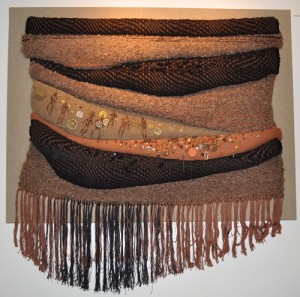 Fiber artist Patty Wolford brings her unique woven art to The Purple Moon in a show opening Thursday, October 21st.
Wolford, who attended Berea College before obtaining her M.A. in Art from Marshall University, utilizes woven fibers and found objects in her work which reflects the "Appalachian Stratigraphy" she grew up around in the West Virgina coalfields.
"My vision and intention was to create art which is reflective of my Appalachian roots," says Ms. Wolford, "depicting the mental images of steep hillsides, layers of rock formations revealing coal seams, and the images of locale in which I was raised."
Appalachian Stratigraphy – Works by Patty Wolford, opens as part of the Downtown Charleston ArtWalk on Thursday, October 21st with an artist reception from 5 to 8 p.m. Live music will be provided by Tofujitsu.