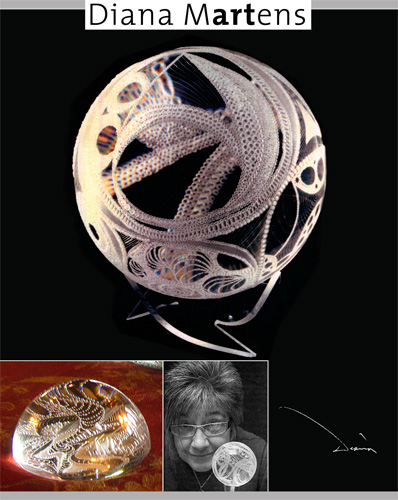 The title of this exhibit is perfect in many ways. Diana Martens' sculpture is, of course, circle, spheres and half spheres. Her drawings are full of circular and connecting line. But also, for Diana, this show in Charleston is a bit of a coming home. In this way too, she has come full circle.
It was in Charleston that Diana grew up. "It is a beautiful area to come from," says Diana, "and very influential to the foundation of my work." She was immersed in art from the beginning with her father, Robert E. Martens, who was an architect and sculptor, and her mother, Eloise Guthrie Martens, a musician and composer.
Diana's high school teacher, Sharon Mullins, picked up where family members left off and encouraged creativity as a way of thinking.
Inspired to go out-of-state to college, Diana found Mount Union College in Alliance, Ohio as the testing ground for many disciplines including painting, sculpture and pottery. It was shortly after graduating from college that Diana began "drawing" her unusual style on large acrylic spheres that were made to be used as covers for outdoor lighting. Loving the shape, and experimenting with many sizes of spheres, she found the clear, solid acrylic spheres to be the perfect "canvas" for her work.
After relocation to the west coast of Florida in 1988 she was owner and director of Florida's Global Gallery in the Tampa International Airport and active in the Florida chapter of the Women's Caucus for the Arts. She was nominated for the Friends of the Arts award in 1989 for her work promoting the arts.
It was soon after Diana's move to Connecticut in 1994 that she began drawing her unique alphabet which is now part of the book. Reflections to the Letter, a collaborative work by Diana and artist/writer Jessey Ina-Lee. The artwork from the books and Diana's artwork has been shown in galleries throughout Connecticut.
Just this spring, Diana moved back to the area to be closer to her family and the hills she has always loved. With a smile on her face, Diana adds, "It was my wonderful brothers who contributed so much to keeping me well rounded."
Full Circle: Works by Diana Martens will open at The Purple Moon on Thursday, My 20th with an reception with the artist and as part of the monthly ArtWalk from 5 p.m. to 8 p.m. The show will run through the end of June and will be featured by The Purple Moon during Festivall.